Issue 23
Summer Garden Fete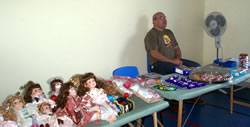 Although it forecast rain the garden fete took place in beautiful sunshine. However, some of the stalls were placed in the Sports Hall. The garden produce were sold outside. We picked around 70kg of potatoes together with beetroot, broad beans, tomatoes and chilli pepper plants from the Garden. We also sold cherry tomatoes in hanging baskets.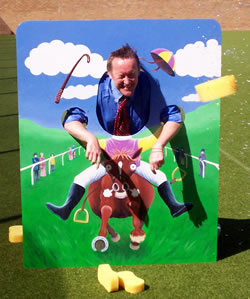 Another stand outside sold bric n' brac pieces made by patients as well as a booklet from the creative writing group which sold out very quickly; someone said that the booklet should be entered in the next Koestler Awards! Janette (Activity Coordinator) had a video and cassette stall with raffle tickets for sale. Other stands had books and bags for sale and other stalls selling cakes, drinks and toys– not to mention the ever popular name the teddy and how many sweets in a jar.
rob in the stocks
Finally, we must not forget the stocks which was popular with both staff and patients (people who got soaked were IanO, Sara, DaleP, KarlH, Alex, NeilW, AllanT, Mely,S, and Chris). A mister Robert Goodwin succumbed to having a go &dnash; unfortunately Michelle's aim was far too good and RobG got well and truly soaked (see photo above).
A lovely day was had by all and we look forward to the next event.
Many thanks to Tesco for their contribution of items for the fete.
Also thank you to everybody for your generosity.