Issue 24
Place of Interest St Fagans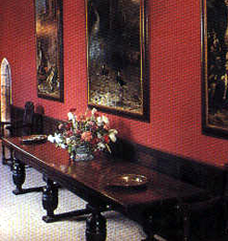 It was mid October when I went to St Fagans with my parents. This was our second visit and we were going to see areas that we missed in the first visit that is the castle and gardens.
We parked in the cart park which was £2 per car or free for disabled and no cost for individual people.
We then walked to the castle and then outside the grounds to the village where we had Sunday lunch at a pub called the Plymouth Arms. The food was plentiful and the service excellent. I should say that it got very busy so you need to arrive before 12 noon!
old table
Having had our fill, we then walked to the castle and had a look around. The rooms were well laid out with written details about each room. There were also members of staff to help with the questions. There were not many rooms to see and I therefore recommend that you spend more time wandering around each room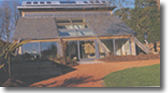 The castle as built in 1580 and then left to heiress Elisabeth who married the 3rd Earl of Plymouth in 1730. The Earl of Plymouth has large estates around my home town of Ludlow in Shropshire - it's a small world! We then walked around the mulberry garden and then down to the woollen mill that was shut off but was made up of oak wattle for the walls. There was a dovecote that may have been dated to 1580 since there was reference to one at that time. Suffice to say that pigeons were an important source of fresh meat.
We finally went around a building called "The Ty Gwyrdd" (The house of the future) which was built in 2001 and shows how buildings may evolve over the next fifty years. house for the future Its aim is to contribute "to ongoing debates such as energy efficiency, sustainability, changing family structures and new patterns of work and leisure". The building is designed for children to see how eco - friendly structures can develop in the future - as well making it user friendly for us adults too!
Another nice day was had by us.
AndyH