Issue 23
Religion and Mental Health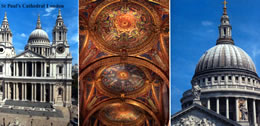 I am writing this article about religion, highlighting how it can benefit you, the people who live here and its relationship with psychiatry.
I started bringing religious people to the Hospital a few years ago now. There were quite a few obstacles, but given time these things have been over come, and I have the backing of the Directorship and Managers at the Caswell Clinic where religion is concerned. There is a Professor Taylor who works here at the clinic, who has helped me put on a seminar here in the clinic regarding religion and to show how you all can benefit from it in your life.
We are to have a conference in October to show that Psychiatry and religion can actually benefit from working together so that you the people who matter most do not have to hide your spiritual beliefs from anyone.
So, what is happening regarding religion in England?
I attended St Pauls Cathedral in London, where there was a conference on Spirituality and Mental Health. This helped me, (with the help of Heather Edwards (social worker), to learn a lot. And helped me and Professor Taylor formulate our very own conference here in Wales. It is on the 3rd of October and I will let you know the out come in the next addition of Caswell Chat.
Rob.C