Issue 24
Kestler Awards Ceremony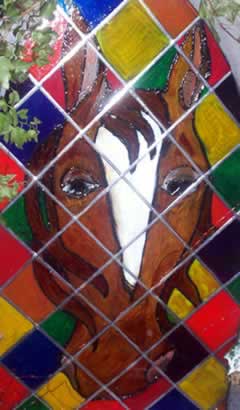 It that time of year again! The Koestler Awards ceremony is an annual competition and exhibition of award-winning arts from the UK prisons, young offender's institutions, secure units and high secure psychiatric hospitals. Once again Caswell Clinic patients and the Clinic itself had an excellent result for participating in the competition for 2008. This year's awards were highly commended with lots of positive written feedback from the judges. Congratulations to all the patients who participated and also who won awards, cash prizes up to the value of £110!
The Koestler Award Ceremony took place on Tuesday the 18th November in the clinic's cafe´. The ceremony began at 12:30 with Tegwyn Williams presenting the group awards first. Well done to The Caswell Chat magazine group for winning third prize Andy, Liz, Bob, Aubrey, Mel and Adrian. The craft group were presented with Highly commended Award for their stain glass window. Congratulations to Kenny, Richard, Neil, Rob, Andy and David for their individual pieces entered in the Caswell Chat.
A congratulation to the individual award winner's these were David who was presented with a highly commended award for his painting "Hawk Eyed". Adrian who won a merit award for his upholstered stool. Richard who won a commended award for entering his poem. Congratulation's to Kenny for coming second with his magazine article. Finally congratulations to Andy for winning a merit award for his sculpture and Mel who was presented with a commended award for his article on "Melly Meals."
I wanted to say thank you to all who attended and gave their support on the day and to the housekeepers for putting on such a great buffet.
This is my second year organising the Koestler awards and the standard and results are improving. It was very moving to see the talent and effort put in by the entrants. It has been a great success for the patients and for the Clinic to be honoured and awarded for their hard work this year.
Please don't hesitate to contact to your OT, OT Technicians Alex Perry and Neil Watkins, Rachel Madden and Karl Hocking, Primary Nurse's and activity coordinators if you would like to enter the next annual Koestler Award competition for March 2009. All patients are welcome to provide individual pieces such as art, craft, music, woodwork, poems or any art forms.
Once Again I would like to wish all the entrants the best of Luck for 2009!
Tracey.B O.T.)