Issue 9
History of Caswell Clinic in Short
In 1989, Dr Chris Hunter and Barry Topping-Morris were brought to Wales to help develop a policy for the development of Forensic Mental Health Services. The resulting strategy was described in the All Wales Advisory Group Report on Forensic Psychiatry which recommended the establishment of two MSUs, serving the North and South of Wales.
The first step in realising this plan was the establishment of the Caswell Clinic Interim Secure Unit. This service was established within converted Victorian hospital accommodation on the Glanrhyd Hospital site and was designed as a way to develop the experience-base in Forensic Mental Health prior to the building of a new purpose-built facility. The 19 bed unit was officially opened in 1992, with a further 14 bedded ward added in 1995.
entrance of new clinic whilst in latter stages of building ( Image of Caswell Clinic Main Enterance in the latter stages of completion, the only time the car park has been empty)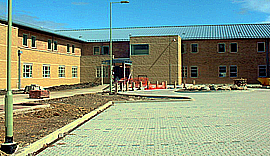 The development of the new 64 bedded service has cost £14M and will allow for the provision of Forensic Mental Health Services in modern, purpose-built accommodation. Before beginning the design of the new unit, staff visited a number of other facilities throughout the UK in order to ensure that we could learn any lessons from previous designs. The new unit will contain 50 beds for the South Wales population, with a further 14 bedded ward for use by patients requiring longer-term care. This 14 bedded ward will take patients from across Wales.
Clinic garden before landscaping
( Image of Caswell Clinic's garden before landscaping. )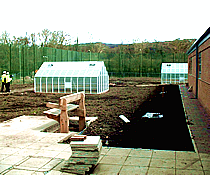 With the development of the 25 bedded North Wales Ty Llewellyn Unit in Bryn y Neuadd Hospital, the pattern of adult Medium Secure Unit facilities is now in place within Wales. The challenge for the future will be the development of a comprehensive secure service network which will include the provision of low secure services, together with service provision for children and adolescents.
Robert Goodwin Directorate Manager
FOR INCLUSION IN "BREAKING NEWS"
The new build is due to be handed over to the Trust by the main contractor on Tuesday, 11th May 2004. An eight week commissioning period will follow with patients transferring into the new unit in week commencing 5th July 2004.