Issue 21
The Royal Welsh Show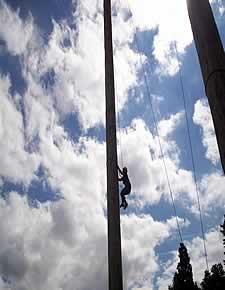 The Royal Welsh show took place during the torrential rain that we saw in July (can you ever forget the carnage left by the rain in the UK - notably Yorkshire, Hull, Gloucester and Oxford areas.
The only day that was forecast to be dry was Tuesday. On Monday the weather was so bad that they did review closing the show but decided to carry on. The show ground itself has concrete paths so the main problem was with the parking cars. On Monday some vehicles were towed on to the Car park when arriving and then when leaving!
As it happened Tuesday turned out to be a fantastic day weather wise and that′s the day when we visited the show!
Gail and I got ready at 7 o′clock, but due to some delays we did not leave Bridgend until 8′clock. We arrived at the car park at 11 o′clock due to the volume of traffic rather than the two hour trip with no delays.
We met up with my parents and went to see the sheep section. We saw the sheep shearing section (see photo) where sheep were being shorn in under 2 minutes.
We then went to the National Farmers Union stand where they were giving out free lunches to every one. These comprised excellent sandwiches (I had chicken and Mayonnaise with lettuce), tea/coffee or squash, and then a cake to end. Most people did not know that free food was available and it is useful to note for another occasion.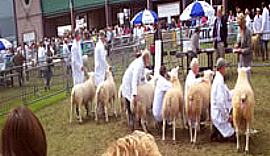 We then saw tup (male) sheep being judged. Dad was a sheep farmer and had a flock of sheep called Berichon (a breed from France that lamb prolifically (nearly 2 lambs per ewe)) Gail was amazed how many breeds of sheep there were on show!
We then saw the Cossack riders from the Ukraine which were spectacular – for example one man stood on the back of a horse with two other men riding alongside; others moved off the saddle and placed themselves by the girth (down by the belly of the horse) whilst it galloped.
We then went walking along the many stalls before reaching the flower stand with many exhibits.
Finally, we went to the forestry section to see people climbing up poles that were more that 100 feet tall.
We then left around 4 o′clock to get back to the clinic and wishing there was more time to see other exhibits especially the horses in show.
Both Gail and I felt that it would be a nice show for other patients in the Clinic to visit next year – so we must book early!
By: AndyH