Issue 21
Mass On The Mountain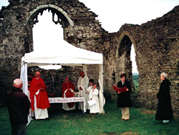 On Monday 23rd July 2007, we set out on our pilgrimage for the 16th year along the path, sometimes steep in places, to our destination, which was the ruined Chapel of Capel Mair, overlooking Margam Park. The Mass was being said in honour of our most celebrated Martyrs, St. John Lloyd and St. Philip Evans.
John Lloyd had taken his mission oath at the Royal College of St. Alban in Valladolid, Spaid, on the 16th October 1649 and had laboured hard and faithfully among the hills and valleys of Brecon and Monmouth for the next 24 years. Philip Evans was ordained at Liege in France and was sent to the English Mission in 1675. Assigned to South Wales, he worked hard for the cause for four years, and feared no danger where the glory of God and his neighbour′s salvation were at stake. Although being warned by friends to go into hiding, he refused and carried on with his priestly work.
Not long after, he was caught at Sker House, and with John Lloyd who had been arrested earlier, they were thrown into Cardiff Gaol. It wasn′t until 6 months later that they were put to death most horribly on 22nd July 1679.
The chief celebrant at the Mass was Canon Sylvester O′Donnell, parish priest of the parish of Out Lady of Margam, assisted by the Rt. Rev. Monsignor David Bottrill, Vicar General of the Diocese of Menevia, together with Canon Richard Byron from Swansea.
There was a marked difference in the weather this year, which, although fairly warm, was rainy, and at times quite blustery. One could imagine in days gone by, the faithful who would have to make this same journey to take part in the Mass, and would no doubt on days like this pause on the path to listen carefully to the sighing wind and the drips of rain from the over hanging branches which could, maybe, have blotted out the sounds of the enemy.
There were fewer faithful this year, maybe 35 to 40 braving the weather. Nevertheless with the homily from Canon O′Donnell and the hearty singing of hymns, the atmosphere was very friendly and hallowed. Although we are all on life′s journey, hard for some, perhaps easier for others, we were reminded that our final destination in out pilgrimage of life is with our heavenly Father in his eternal Kingdom.
On these occasions we are sustained in our faith, and find new strength, to continue on that journey.
BernieC