Issue 19
Quiz Night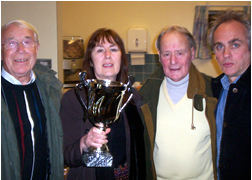 We got together for another quiz night ably assisted by our resident compére,John.
There were 4 tables in the café which worked out better than the sports hall. It was very close for second, third and forth but the outright winner this time was Elfyn′s team (see photo). This was especially good because Elfyn′s team finished last in a previous competition.
We had a lovely buffet prepared at short notice by LisR. Many thanks from everyone who attended the quiz. We look forward to the next one.
NB: Robert Minhinnick (above photo far right) is an acclaimed poet and editor of Poetry Wales. He has recently been presented with £10,000 for his book of the year "To Babel and Back". The book is a collection of essays, observations and stories, is reportedly based in part in Robert′s home town and also encompasses the author′s trips to both Iraq and Argentina.
AndyH