Issue 21
Children in Need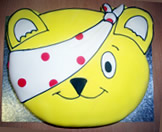 I am glad that so many people bought raffle tickets to try and win the Pudsey bear cake for Children in Need It is such a cute cake and very brightly coloured. It attracted lots of attention sitting in the reception window.
Pudsey was made out of Vanilla sponge filled with jam and cream and very tasty it was too.
I have been making cakes for over twenty years after going to night school. I learned how to make icing flowers and the more intricate types of decoration, like frills and ribbon insertion. Bouquets of icing flowers take hours and hours to make as every petal has to be cut out separately and thinned out with the appropriate cake making tools and left to dry. But the finished arrangement is worth the work I put in and they are very pretty and can be kept as a keep sake for years.
I buy all my cake making needs in a little shop in the indoor market, Bridgend and the lady Eileen has been working there since I first started making cakes over 20 years ago. It is quite easy to make some of the shaped cakes and they hire out the tins for £1 a night. Though I did make Pudsey out of a large oblong and cut around a shape I made from a small picture of him on Sharon Rees' literature from the appeal package.
I have taken pictures of most of the cakes I made over the years and I have made up a large portfolio of them all, for example, a Darlek, Snoopy, Rugby Scrum, Lisa Simpson, and Hummer Limousine (24 inches long and 7 inches tall) for a friends daughter's 18th birthday!. In fact, I will attempt to make any type of cake anyone might want.
I was happy to make Pudsey the cake, and thank Sharon who bought all the ingredients for me.
Finally, congratulations to every one who helped raise £320. 92. Thanks to both staff and patients for digging deep in their pockets to give £1 for wearing what they wanted on the day and buying the raffle tickets. Donna won first prize and people jokingly called 'fix' when my colleague, Sandra, won Pudsey Bear in the draw.
Alison Caswell Clinic Reception