Concrete Workshop
Earlier this year we purchased new planting moulds, rectangular and square with also herb square small pots, and a water tray to be the base for the pots where water can travel in a capillary action to the plants.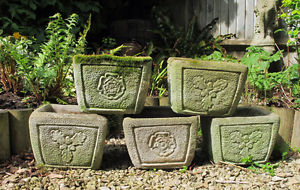 We also obtained small candle holder moulds on a small scale and other novelty items.With the fine summer weather we have been experiencing business as been brisk,with quite a few orders in patio slabs and garden benches, in fact in one morning we got rid of five benches which was £150.00 of business, we then got to replenish the stock.
With all the orders we are receiving the workshop is open on two mornings a week instead of one. Health and Safety issue, We use steel toecap boots and overall coats each time we attend the workshop.
---