Issue 27
Toe by Toe Reading Scheme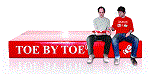 Toe by Toe is a buddy reading scheme that has been set up within the Prison system. This is an award winning scheme and has proven to be highly successful.
It encourages and supports patients who are able to read to give one to one help to patients who have difficulties reading. It has been created so that anyone with the ability to read can help others, you do not need to be an expert.
Training is quick and easy to use. Patients will work with each other to build a good relationship and boost their confidence.
The manual provides instructions for the coach (mentor) and contains activities for the learner (mentee).
This scheme is by patients for patients but support and guidance will always be available.
At the moment we have 5 patients who are keen to be mentors, some of these have benefited from the programme and are keen to share their positive experiences. Previously, when one person joins the scheme their enthusiasm catches on and many others follow.
If you are interested see your Occupational Therapist.