Kilimanjaro Trek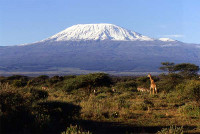 Day one- The day was finally here, the hard work of fundraising was over and we were on the train to Heathrow airport to meet our fellow trekkers. We were both exited although a little apprehensive of what lay ahead.
Day two- We arrive at Addis Ababa airport in Ethiopia and wait for 4 hours for our connection to Kilimanjaro airport. We arrive at the hotel at 6pm and have a lesson on how to pack our bags for the climb. After a good meal we retire to our rooms for an early night ready for our challenge ahead.
Day three- After a short drive we arrive at the Machame gate where we sign in to begin the accent. We walked through the rain forest (and yes it was raining) for 4 hours before stopping to eat our packed lunch. Then we set off for another 4 hours to Machame camp and our first night in the tent which Karl couldn't quite fit in properly.
The views all around were breathtaking as we were just above the clouds with some of the group already feeling mild effects of the ever changing altitude.
Day four - Another early start up at 6am and a breakfast which consisted of porridge, eggs, bread and strange looking pink sausages which most of the group stayed away from. Today we faced a 7 hour walk up through the top of rain forest to Shira Camp (3800m ASL). Today we really feel the effects of the altitude with some of the group experiencing breathlessness and loss of appetite. We reach camp just after 3pm and again are amazed by the stunning views that surround us. The group is starting to gel and working well together, we sit outside our tents with a cup of sweet tea and watch the sunset.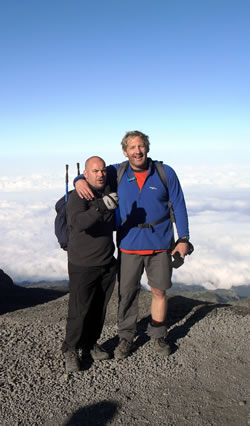 Day five - The group wakes up feeling tired just as the sun rises at 6am. Its -3 outside before the sun raises the temperature to 20 degrees by 9am. We begin a long day of trekking to our next camp. The temperature rises very quickly and everyone is taking layers off. We have lunch at Lava tower which was created by the eruption of the volcano, some of our group decides to climb up the tower but we take a far more sensible approach and have a well earned rest. The afternoon was very long despite descending for much of the afternoon to aid acclimatization the terrain was rough and slippery which caused a few of the group to stumble and fall. We reach camp at 5pm and are faced with the very imposing looking Barranco wall which is our next challenge for the morning. Karl struggles to eat and sleep due to the effects of altitude.
Day six- Summit day- up at 5am for an early start up the Baranco wall, from a distance the path seems less than a meter wide and closer doesn't get much wider. This is a challenge so early on in the day that a few of the group become very anxious as we start to climb. It takes just over 2 hours to complete the wall where the group have a well earned rest and take a few photos.
As it was still only 9am we had at least 3 more hours before lunch and we trek on through valley to valley up and down without making gains in regards to height. 2 hours from camp we are faced with a 300m climb up very steep slate cliff face which really takes it out of us. We all work together as a team encouraging each other before we finally see our camp at Barafu at 4.30pm. Although we can see the camp in the distance it takes another 45 minutes to reach there. Karl is sick as soon as we arrive at camp and is seriously feeling the effects of not eating or sleeping
We attempt to eat at 6pm and relax before our 11pm wake up call and attempt the summit.
on top of mountain
We hardly sleep and at 11pm the temperature is -5 to -10 so wrap up warm have a quick cup of tea and we are off. All you can see in the distance are head torches going vertically up the mountain. People are starting to feel the effects of the altitude by being sick, falling over and general fatigue. At 5000m and 2am Karl falls over and was violently sick tried to eat some energy gels and attempted to continue only for the medical team to recommend he return to camp as he was suffering from mild hyperthermia and exhaustion. Alex continued through the night and reached the summit of Kilimanjaro just after 9am. By this stage all the participants felt ill describing it as a vivid dream and drifting in and out of consciousness regularly. Some of the group had to be carried back down throughout the night with effects of altitude. The porters and medical staff were amazing in encouraging and helping people reach the summit. What goes up must come down so it was another 5 hrs for the group to descend back to base camp. We have a short rest and refresh ourselves only to face another 3hr trek to Millennium Camp where we will spend our last night under canvas. Tonight the whole group sleeps soundly.
Day seven - The group wake for breakfast and are treated to a traditional song and dance by our porters who always seem so cheerful and after some farewells it is time for our last 5hr trek to meet our transport at the park gates. Tonight the group is treated to a gala dinner and presented with certificates. We party through the night and spirits are high.
What an amazing life changing experience we both experienced and wish to thank everyone for their kind sponsorship and helping us raise £6500 for the charity Scope.
Alex and Karl