Issue 27
As April Came
Spring has arrived at last after the hard winter we have had. The winter has taken a hard toll on some of the plants killing them off as temperatures dropped. But now that spring is finally here we have been able to get seeds started off in the green house.
seedlings
With help from the patients and staff we started in March, which was still a bit cold but with the finding of heaters in the concrete department, that had been there for some time I may add, the seed had a good start with the extra heat.
In April we had some fine weather which helped the tomatoes seeds become healthy seedlings and young plants, of which we had two hundred or so.
As April came to an end the apple blossom appeared and flowers started to appear in Newton″s garden (the old three feathers) and now is starting to come into bloom with an array of forget-me- not and wall flowers.
The ladies on Newton have started on the courtyard, tidying away the cobwebs and giving it a good spring clean.
In the green house we have started sunflowers off and there will be one for each patient, there will be a prize for the tallest and a prize for best bloom as there are some giant and some dwarf verity″s of sunflowers. Last years tallest was won by Sara j.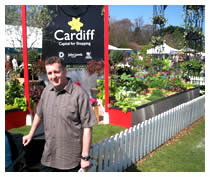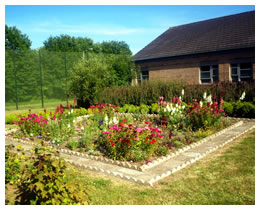 This year Simon B, Andy H, Antony B and Neal W went to the R.H.S. show in Cardiff which was held in the castle ground. It was a beautiful day and all the daffodils were in full bloom. At the show there were lots of flowers and bonsai trees in the main tents but very few gardens were there which was disappointing.
There were a lot of stalls selling plants, seeds and garden supplies and others that sold hand made crafts for the garden, such as willow structures and carved wooden animals.
At the end of the day most of us did not think the price we paid to get into the show was worth it, but it was a nice day out.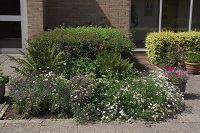 This year Tenby courtyard has changed, all of the shrubs have been taken out and a grass lawn has been sown, bulbs have been put in and flowers that have been grown in the greenhouse will be in by the time you have read this article. Ogmore ward will have its own garden by the end of the year as all the shrubs are coming out and a lawn and borders will go in their place.
It will be a lot of hard work so if you have any spare time on Wednesdays please ask Graig if you can come along and help.
We have also been selling tomatoes plants, mainly to staff as we have grown all the plant from seed this year and not bought them in like last year. We don″t make a profit just get the money back to buy more compost and seeds.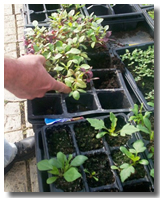 We also have a new O.T Antony who takes the gardening group. The grass was cut for the first time this year on April the twenty first which is the queen″s birthday, with a nice smell of hay it was a very nice sunny day.
Cardigan lost their raised beds last year as they started to rot so the display will not be as good this year as it was the best last year.
The compost bins are getting quite full so we need to empty them and spread it around the gardens to put a bit of nutrition back into the soil. Penarth garden has been tided up and it is looking nice. Hope the lads there keep it up and get to the gardening group as soon as they can. Finally, I hope that you have a nice summer and enjoy the gardens.
SimonB