Issue 27
Mental Health Learning Disability Nursing Awards Wales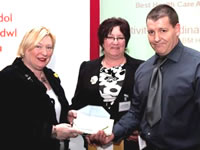 Welsh Health Minister Edwina Hart has praised mental health and learning disability nurses from south west Wales for their hard work and dedication at the annual Mental Health and Learning Disability Nursing awards for Wales. The Activity Coordinators at Caswell Clinic won the best Health Care Assistants award for Abertawe BroMorganwwg University Local Health Board. The award was awarded to Janette Duggan, Craig Thomas and Dale Parfitt. The award was then collected and presented to Janette and Craig during the presentation which was held at Cardiff.
The nominations for the awards are considered by a panel of independent judges that include service users, carers and senior mental health and learning disability nurses from across the UK
Dr Ed Roberts vice Chair of Abertawe Bro Morgannwg Health Board said "I was present at the awards ceremony when it was announced that the Activity Coordinators at Caswell clinic had won the best Health Care Assistants category. The high standards and achievements being set by staff in mental health and learning disabilities in ABM and across Wales were very apparent and our health care assistants should be justifiably proud of there success. We as a board value recognise and applaud their work and commitment and add our congratulations to those they received at the awards ceremony".