User Friendly Group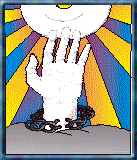 Hello, I am the UFG Chair Person. I am writing this column about what the UFG is all about. We have the meetings on the 1st Friday of every month. Everyone is welcome to come along and join in the discussions. We talk about a variety of things like what's been going on in Caswell clinic, what's new or old topics. We even talk about future events or changes in the clinic.
Come along to have your say or even just to listen to what's going on. Either way it's a good place for questions and answers and to share any ideas you may have. We all can discuss from patients, A/Cs, OTs and even our lovely Sian Dolling. Come check it out.
I enjoy chairing the meetings as it's not very formal. Plus we have a bit of a laugh and giggle. Come along and see for yourself. I hope to see some newbies very soon.
By RJ