Issue 34
What's OT Got to Do with It?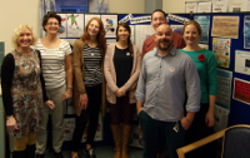 In November we held an event in the cafe, to promote and celebrate our work in Caswell. All staff and patients were welcome to join us with tea & biscuits, to talk about what's going on in OT & to check out some groups that were on offer.
Many positive things were written on our 'Feedback' Board & some ideas were given of how to improve what we do best
— meaningful, purposeful activities.
We hope you all had chance to get to know us & please continue to share your ideas.
Many Thanks—The OT Team.