Issue 33
Koestler Exhibition Cardiff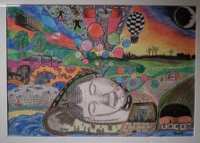 On the 13th February a small group of staff and patients set off from Caswell Clinic to the Millennium Centre in Cardiff. The group included Anthony, Donatien, Eamonn, Jo, Laura, Leigh, Louise, Louise, Rebecca and Simon.
It was my first visit to the Koestler Exhibition and I had high hopes of seeing some fantastic art, I was not disappointed! We arrived at the Millennium Centre and the sky looked grey and full of rain, we scurried indoors to avoid the showers. The art works were displayed on the first and second levels of the Millennium Centre.
We picked up a booklet and began a leisurely stroll around the first level. We were in for a treat, the range of art, photography, pottery, audio and textile work was very impressive. I think one of the highlights of the day for me was spotting several contributions on display from patients at Caswell Clinic.
There were several pieces of work displayed including a good mix of pottery, photography and art. David, Donatien, Jason and Simon all had works on display with some fantastic pieces for us to look at. Caswell was well represented with (in my slightly biased opinion) some of the most colourful and intricate pieces on display!
Having thoroughly explored all the exhibition had to offer it was time for a coffee break; of course we all resisted the temptation of cakes and biscuits!
One of the great things about attending the exhibition was having the opportunity to leave feedback for the artists.
After the exhibition we called to a local restaurant for some lunch. As luck would have it the sun began glimmering through the clouds just as we were setting off for a walk around the bay. It was like a summer's day as we ambled over to the Norwegian church for a look around. We called into a small art gallery after this and spent some time looking at the pieces on sale.
I would encourage anyone at the Clinic who is able to attend a trip to the Koestler Exhibition to jump at the chance next year. We had a lovely day and all involved felt the trip had been a great success.
Laura