The Swans F.C.

I first saw the Swans when i was 12 years old in 1954. I went to school in oxford street school near the Vetch field Swansea. The first game I saw was Westham United, I remember it well. In school we used to train for soccer on Swansea beach, when the tide was out we used to play during the day every Friday. On the Vetch the footballers were our idols including the Charles brothers, the Allchurch brothers, Cliff Jones and Terry Medwin. John Charles was world known and called the gentle giant he was born in the same district as me in Swansea. He played most of his football in Italy. I used to sell programmes to get into the games, otherwise it was 6d (old pence) entrance fee.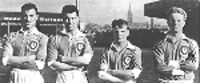 Cliff Jones and Terry Medwin went to play for Spurs in 1959. Ivor Allchurch went to Newcastle and Mel Charles stayed with the Swans as did Len Allchurch. That was a golden era between 1953 and 1959. Then the Swans changed, they went down the league until they had some ups and some downs, mostly downs. The up's in 1964 they reached the semi finals and lost to Preston Northend, I was there that day. On the way they beat Liverpool who were one of the top teams in the country 2:1. I was at that game and it was a great day. After that things went downhill for several years, just playing in three different divisions, fourth and third, but mostly the fourth, sometimes the second! This went on until 1977/78 when Harry Griffiths became manager. Harry Griffiths was one of the players in the 1950's era.
Shortly after John Toshack became player manager with Harry Griffiths staying on as general manager. Harry became ill and passed away shortly after. He was a wonderful player. Anyway John Toshack helped us climb from fourth division to first division. The first year we finished sixth in the first division and the next year we were relegated but it was a good few years of success and good memories.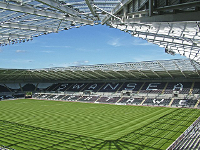 After that things went downhill again to the fourth division dropping a division a year. 1988 we were at rock bottom where we stayed, sometimes making it up to the third division. We had several managers during this time, up until 2002. During that time we were up and down with some good years and some bad years. 2002 was the lowest point for us when we almost dropped out of the league.
In 2002 Petty bought the club for £1.00, when we almost dropped out, supporters chipped in, including me to put money in to support the club to buy Petty out. It cost the club £100,000 to get rid of Petty. Other people put money in then, big businesses and the club never looked back. A new manager was appointed Roberto Martinez and several new players which changed the Swans into a brilliant team. It took them six years to get back into the premiership for the first time. What a great time I've had. Great memories to see them nearly top of the world in football.
Aubrey