Issue: 32
Koestler Awards: A fabulous day out!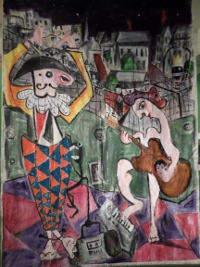 This was a day I had been looking forward to ever since I started placement at Caswell. Everyone I talked to who had attended the event previously was full of praise for the exhibition and described it as a wonderful day out. Needless to say, I wasn't disappointed! On arrival at the gallery I was amazed at just how professional everything was. It was impossible not to feel inspired walking through the aisles, as the standard of art on show was simply amazing and there was such a vast array of contrasting styles, themes and colours on display.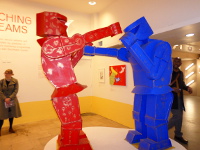 I was also very impressed by the other features of the exhibition such as the poetry room and the music section which played music composed by a variety of patients and inmates from around the UK. It was interesting to talk to other members of the group at the end to compare our favourite paintings, as everyone found something different which they enjoyed. Patients on the trip reported that: "It was a really good day" and that the art was "Cracking", with one patient's favourite part of the day being, seeing the London Eye! My own personal favourite was a painting of Martin Luther King which was very colourful and inspiring. Overall this was a fantastic day that was enjoyed by all and one I'm sure everyone would be eager to attend again!
Shane.S