Issue 32
Drama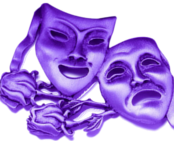 Our drama project with Valley and Vale Community Arts continues to go well. The project has been funded for the 3 years by Lankelly Chase. This has allowed the facilitators from Valley and Vale to come to the clinic and offer 10 week block sessions three times a year. The aims of the project are to allow people the opportunity to express themselves in a creative way,develop their confidence and self esteem, provide an opportunity for social interaction and most importantly have fun!
The drama sessions have been well attended over the last ten weeks, and have given those involved the chance to forge new relationships with other patients and staff, the opportunity to express themselves creatively and to have fun. As well as playing the games, we have also been involved in sketches to do with status. We have been learning how to adapt in different situations taking on a high, medium or low status which has helped us to think about the different ways we can communicate and behave with or towards other people.
We asked some of the participants how the drama sessions have helped them;
"I really enjoy drama. It's fun, mentally uplifting and you always feel good when you have finished. I feel it has helped my confidence and has also highlighted different ways we can talk to people". (Anthony T)
" It's been a great opportunity to improvise".