Caswell Clinic's Children In Need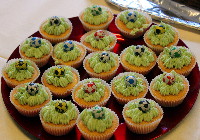 Here at Caswell Clinic fundraising has always been an important issue. This year was no exception with a huge fundraising effort made for Children in need.
The event was held on the 14th November in the clinic cafe with staff and patients enthusiastically volunteering their time, money and skills. Organisation for the event started well in advance with Sharon R of Ogmore ward setting up the idea of a bake off between wards and departments. The bake off involved each ward/department making one large cake, 18 cupcakes and a pie with each team having a theme. Here in the OT department Huw bravely volunteered to make the cup cakes with Jo offering to provide the big cake. I was fortunate enough to find a willing volunteer to make a corn beef pie, many thanks to Anthony E for his hard work!
Sharon was happy to give an interview on the event. "This is the 10th year supporting Children in need, it's the second best amount that has been raised by the clinic. It's a worthy cause. For me it's about seeing the staff and patients getting involved in a special cause. The bakeoff was competitive and of a very high standard. Thanks to the judges Sian and Nick".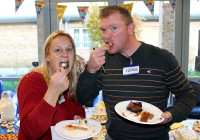 The event was judged by guest judges Sian D and Nick Mc. Nick and Sian said they "were impressed with the high quality of all the submissions. The pressure from the audience was overwhelming, and almost gave Nick heartburn!" "The competition was so fierce but we managed to remain impartial in the judging despite some people, who shall remain nameless, trying to persuade us to let them win." If anyone feels tempted to make more cakes, we are always willing to sample them." "A very high standard of entries all round".
The standard of cakes, bakes and pies was incredible, with all the wards, the psychology department and the OT department making some fabulous contributions. I was fortunate enough to sample a range of the cakes on offer (making my donation for a good cause) and thought they were all delicious!
Three Pies In A Row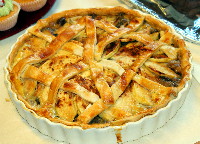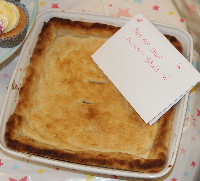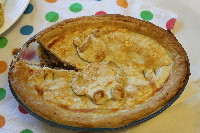 ---
The first prize went to Tenby ward for their sports themed entries. Keith H received a special recognition award for his apple pie. He was also responsible for making the fantastic snooker table cake.
When asked how he felt about winning Keith said he was "a bit surprised, Heidi was a big motivator". For those wondering Keith did get to enjoy a bit of his winning pie "the pie was very nice to eat".
Second prize went to Penarth ward with third prize going to Ogmore ward. Other recipients of special recognition awards were Steve Faulkner for his key lime pie and to Adel Baldwin for her sausage plat.
Three Cakes In A Row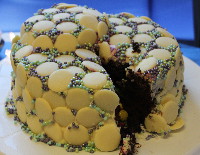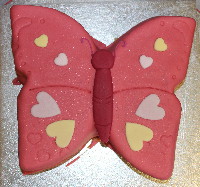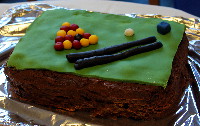 ---
In addition to the charity bake off Ogmore ward also had a sponsored cycle, with Steve Faulkner taking a lead role cycling for 7.5 hours along with patients and other members of staff.
Mark S of Ogmore ward also bravely volunteered to carry out a sponsored head shave to raise money for Children in need. Mark said that the more donations he received the shorter his hair would be cut! In total Mark raised £129. Mark was happy to be interviewed for this article. "I'm glad I raised the money for a good cause and I'd like to thank the people who sponsored me". When asked how he felt Mark said he was "a bit nervous as I'd been growing my hair for a long time. I felt like a weight had been lifted from my shoulders after". "I'd set a target of £70 and the sponsors kept coming in, up to £129. There was no backing out. I feel vey glad I raised the money but it was not without the help of others and Christine's support. It was a good idea, getting a hair cut and doing it for a good cause."
Reception were also involved in collecting donations as people came into the clinic. Reception was decorated with signs up to advertise the events of the day.

In total £360 was raised by patients and staff at the clinic.
A big thank you to all involved in making this years' Children in need day an event to remember. Many thanks to Simon B for his hard work taking photos of the event for this article.
---
History of Children in Need
On Christmas day in 1927 the BBC broadcast it's first ever appeal to raise money for children in need over the radio. There was an incredible response, with £1,143 raised to help children. In 1955 the BBC televised the first 'Children's Hour Christmas Appeal'. In 1980 BBC One broadcast a new telethon format appeal, hosted by Terry Wogan with Sue Lawley and Esther Rantzen. Donations came pouring in and for the first time the appeal broke the million pound mark. In 1985 Pudsey Bear made his television debut, at the time he was brown and cuddly. He was designed and nabbed by Joanna Ball, a BBC graphic designer, who named him after the West Yorkshire town where she was born. The following year he became the Children in Need's official logo and his look was updated, with him now being a yellow bear with a red spotted bandage. So far over £740 million pounds have been raised for Children in need, but there is still more work to be done to help those in need. Every November there is an appeal to raise funds for Children in need.