Issue 32
Spanish Quorn Sausage Casserole with Beans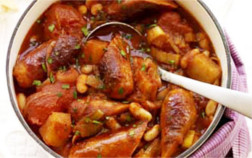 This easy Quorn Sausage casserole with beans is hearty and warming.
Ingredients
1 pack Quorn Sausages, cut into diagonal pieces
2 tbsp olive oil
2 onions, thinly sliced
2 garlic cloves, crushed
1 red pepper, deseeded and diced
1 green pepper, deseeded and diced 100g sweetcorn
1 tsp smoked paprika
2 tsp mild chilli powder
100ml apple juice
400g tin chopped tomatoes
150ml vegetable stock
400g tin cannelloni beans or broad beans, drained
1 small bunch of flat leaf parsley, finely chopped
Method
1. Heat half the oil in a large frying pan and fry the Quorn Sausages for 2-3 minutes until
lightly golden. Remove from the pan and set aside to cool then slice diagonally into 5
pieces.
2. Fry the onions and garlic in the remaining oil until soft, then throw in the peppers and
continue frying. A little water or extra stock will prevent sticking, if needed.
3. Stir in the sweetcorn, paprika and chilli powder and cook for a few more minutes before
adding apple juice.
4. Pour in the tomatoes, beans and stock and return the Quorn Sausages to the pan.
Season to taste with salt and freshly ground black pepper.
5. Cover and simmer for 10 minutes before sprinkling with parsley.