Issue 26
Tenby Ward Patio
Winter Issue 26 2009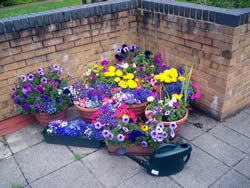 During May, as a Ward we purchased from a local Garden Centre a selection of summer bedding plants and potting compost to decorate our patio area with different blooms of colour.
First task was to fill large pots up to the halfway mark with compost, then splitting the bedding trays, removing clumps of plants, mixing the varieties in rotation and planting out firmly in trays and pots.
The flower varieties we used included: Lobelia, Alyssum, Impatiens, Busy Lizzy), African Marigolds, Salvias, Summer Pansies, Fuchsias, Gladiolas.
The workforce consisted of Simon, Richard, Granville, Nick and Gavin. Janice and Simon made the trip to the Garden Centre.