Issue 25
Elfyn George´s Contribution Caswell Clinic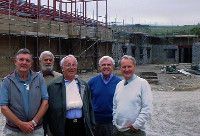 Now that we are in the tenth anniversary year of the Friends of Caswell Clinic, it is a particularly relevant time to celebrate the contribution of the late Elfyn George, one of the founder members of the Group.
The Friends was established in 1999 with a number aims one of which was to promote a better understanding about the Clinic in the local community. Elfyn was one of the original group who came together to discuss the idea with the Trust and the Local Community Health Council. One of Elfyn and the Group´s most important achievements was to help promote the case for the new Caswell Clinic, particularly with our local community. Elfyn (far right) and other members of the Friends are photographed in 2003 when they visited the site of the New Unit which was in construction at that time.
The Friends also have an important role in supporting social and recreational events within the Clinic. Elfyn was tireless in his efforts to plan quiz nights, bowls and musical events, all of which were a great success. The quiz nights were a particular favourite and many will remember such teams as, ´Elfyn´s Elpers and Caswell Eggheads successfully winning the cup which is awarded after each event.
members of the Friends of Caswell
As a former teacher, Eflyn had a particular interest in educating our younger people about mental health issues. This featured prominently in the discussions within each Friends meeting. Local history was also an interest and many will also remember Elfyn's article in Caswell Chat about the Island Farm Prisoner of War Camp.
Following Elfyn´s very sad death, his wife indicated that he had very much enjoyed his time with the Group, staff and patients at the Caswell Clinic. Everyone will be aware of the central part played by Elfyn in the Friends of Caswell Clinic and that his passing has left a gap.
Elfyn would have been very keen for the work of the Group to continue and the members are committed to building on his previous work.
Robert G