Issue 25
Big Drama at Caswell Clinic !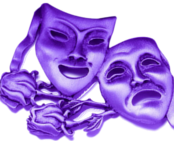 Over the last ten weeks, a group of us was lucky to experience drama workshops in which we tried out interesting stuff that was loads of fun. The two outside facilitators, Alison and Ali from the Valley and the Vale Community Arts were surprised that people found it so easy to find and make comedy.
The two hour sessions consisted of hilarious exercises that had the group roaring with laughter. Whether the exercise was a game or just improvising, people surprised themselves by taking part and by what they could do. The atmosphere was so comfortable and safe that people trusted each other and joined in things that they would normally avoid. Turnout was exceptional, despite workshops being run from three different rooms. By the end of the ten weeks, we all felt more confident, brave and relaxed. Everyone got a chance to shine and was not embarrassed to do so. This group unearthed some comic geniuses (you know who you are!) and also some fabulous singing. Hopefully we can tap this potential in the future.
One person said that he was "surprised, as it was not like school but a lot more fun". Andy H stated that: "as you were not pressured to join in, a lot more people participated; he went on to say that: "there was a varied programme which meant that we were always doing different things and this kept our interest. I was not clock watching as the time flew by".
There were a few people in the group that were really shy at first, and didn´t think that they could perform in front of others. However, some games made them laugh so much that they forgot to feel inhibited. Another person stated: "I really enjoyed it; I am actually quite self conscious but this group helped me forget myself and have a lot of fun."
Everyone who came said they would welcome the chance to do this again. What a shame that the Caswell Variety show was cancelled, as we had created some really funny sketches. There were some great ideas put forward for the next one such as writing and performing a short play.
Thank you everyone who came.
Lara and Mal