Issue 25
Ogmore Ward Easter Fun Day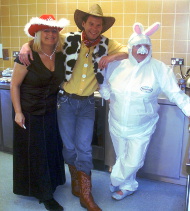 About 3 months ago, Ogmore Ward held a community meeting and patients asked if they could have a Wii Fit and how they could buy it. It was decided that we would hold a fun day and raise money this way. It was coming up to Easter so we decided it would be Easter themed.
It was the first time for Ogmore Ward to stage anything like this but Cardigan Ward were available for any tips as they had done this a few times in the past. Staff and patients went full out to make the day a success, with a cake stall – courtesy of Jayne, Richard and staff, Hot dogs and burgers – housekeeping, Tesco £50.00 gift voucher – so with this we were able to buy the raffle prizes. Patients donated the prizes for the tombola and we had a mystery Easter bunny. Pin the tail on the Easter bunny was a great success which Dan really enjoyed hosting. Even the ward manager dressed up as an Easter bunny to everyone´s amusement.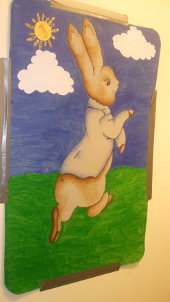 We were hoping to raise £240.00 for the Wii Fit, and when the money was totalled up we had actually raised £350.00. So it goes without saying we were all delighted.
A big thank you for everyone´s support.
Laura (Ogmore)