Issue26
The clinic shop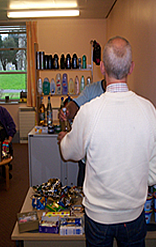 I have been temporarily running the clinic shop since April covering for Rob C while he is on his sabbatical. Initially when approached by Rob I agreed to cover for him as I thought it would help keep me occupied. However as time has progressed I have found running the shop a rewarding experience which has given me a sense of purpose.
The key principle has been to provide a service which meets the needs of all patients. We strive to keep prices competitive. Profit from sales is ploughed back into patients use via the "User Friendly Group" bank account in the form of entertainment and individual assistance as required.
The aim of the shop is to provide a wide range of food and toiletries with a focus on offering healthy options as well as popular snacks and vast quantities of flavoured water!
The shop also sells stamps and phone cards. There are used books for sale at a cheaper price than a bar of chocolate and a selection of free second hand clothing. We are presently selling 100+ bottles of water weekly for which I am keen to establish a recycling provision — watch this space!
I am continually looking at ways of developing the service provided and as such am open to any suggestions for improvement and requests for provisions to be stocked.
Presently there is myself and my right hand man AndyH involved in the running of the shop. Any one interested in getting involved please let me know. Thank you for your continued support.
AndyB