Herbs in the Home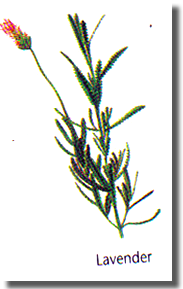 I have given you Herbs in the Kitchen, now here is Herbs in the Home:
Natural furniture polish;
Half pint of water,
1 large handful of fresh lemon balm,
Half pint pure turpentine,
2 ox beeswax,
2 oz soapflakes,
2 screw top tins.
Method:
Make an herb infusion by placing the lemon balm leaves and stalks into a bowl. Boil the water and pour over the leaves, cover and leave to stand for 15 minutes. Melt the beeswax and turpentine in a basin over a saucepan of simmering water. Take great care here when heating the beeswax and turpentine as it has a low ignition point. Place the strained infusion and soapflakes into another saucepan and heat gently. Cool both mixtures a little and then stir the two together to make a thick cream. Pour into the tin containers and seal. Allow to cool and set. Use a soft cloth to apply the polish to wood, metal, or painted surfaces, buff to shine with a clean soft cloth.
Alternatives;
Lavender stems, use either a large handful of dried herbs or 6 drops of lavender essential oil.
Sweet marjoram leaves, again a large handful, or 6 drops of essential oil.
Upholstery shampoo;
Half oz of dried or fresh root of soapwort
or 2 handfuls of fresh stems
1 Half pints of water.
If you wish to perfume the shampoo add 6 drops of essential oil to the strained liquid. Lavender, thyme, rosemary or rose scented geranium are all suitable.
Method:
Wash the fresh soapwort root thoroughly in water. If using dried soapwort, prepare it by soaking in water overnight. Put the soapwort into a saucepan with the water and bring to the boil, cover and simmer for 20 minutes, then allow to stand until cool. Strain the liquid into a bottle and store in the refrigerator. To use; dampen a sponge with the solution and rub the fabric lightly, allow to dry before applying again if necessary.
All purpose surface cleaner;
One handful of fresh sage,
Half pint of water,
2 tbs baking soda,
8 drops of lemon juice.
Method:
Put the sage leaves and stems into a saucepan, add the water and bring to the boil, once boiled reduce heat and simmer for 20 minutes. Then let it cool and then strain, before pouring into a bottle. Add the baking soda and the lemon juice. Seal the bottle and shake well and store in a refrigerator. This cleaner can be used to clean sinks and bathrooms and kitchen surfaces.
Alternatives;
2 handfuls of thyme sprigs.
1 handful of rosemary sprigs.
Window Cleaner
1 handful of fresh or dried lemon verbena leaves
8 fl oz water
2 tbs white vinegar
and 3 drops of liquid soap
Method:
Add the lemon verbena to a saucepan pour over the water and bring to the boil, reduce the heat and simmer for 10 minutes, then allow to cool down. Strain into a spay bottle and add the vinegar and liquid soap. Seal and shake. Apply this spray to your windows and use an old newspaper to increase the shine.
Alternatives;
1 handful of lemon balm.
1 handful of bergamot leave.
Herbs offer a greener alternative to commercial products. They are better for your health, hands and the air quality in your homes. Many herbs also have antiseptic qualities. Herbs have no damaging effects on our environment, they are easy to grow or obtain, inexpensive and no additives and not tested on animals and 100% natural ingredients.
Herbs for First Aid;
Aloe gel, for cuts, burns, sunburn and poison ivy. Arnica ointment for painful bruises and muscle pain. Chamomile, dried flower and leaf infusion to aid sleep and relaxation. As a cream to treat eczema and skin rashes. Comfrey ointment for bruises and cuts. Lavender oil for insect bites, stings, burns and headaches. It is also an antiseptic. Marigold as a cream for inflamed or minor wounds, skin rashes and sunburn. St John's Wort oil for burns, grazes and rashes. It can also be made into a cream to treat cramp and neuralgia. Lemon balm infusion for stomach upsets and for relaxation. The list goes on and on.
A list of other recipes is listed below. I will charge you £1:00p per recipe, for any request, money to be given to the Cardigan Ward Fund.
Elderflower cordial, Herb leaf salad, Mint vinaigrette, Herb flower salad, Herb oil, Herb vinegar, Herb custard, Herb fruit soup, Chilled herb sauce, Hot herb sauce, Roasted vegetables with herbs, Herb tart. Marigold cream, Comfrey ointment, Rosemary oil, Aloe gel, Facial steam, Herb mouthwash, Hair shampoo, Nail strengthener, Toning face pack, Herb foot bath, Herb eye compress, Herbal flea powder, Worming mixture. The last two are for pets. Tip for free; Ant deterrent. Simply pick some pennyroyal leaves (Mentha pulegium) and where you have an infestation of ants, rub the surface with the leaves, hard to release the juice of the plant.
Let me know if any of you use any of the recipes. Better still let everybody know and write an article in the Caswell Chat. You may well have recipes of your own to share.
By AlanT Cardigan Ward