Issue 19
Activities Co-ordinator Tenby Ward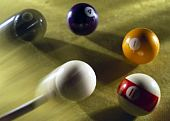 My role as an activities co-ordinator on Tenby ward is different from the roles of the co-ordinators on the other four wards, due mainly to the leave status of Tenby patients. The patients on other wards who have been in the clinic longer have a lot more activities available to them. Tenby patients have to start from scratch because in most cases they are new to the clinic.
This means that activities have to be ward based for the patients with such things as pool competitions, karaoke nights, chess and board games. The ward has also newly purchased a PS2 which is situated in one of the quiet room that is also available to all patients. The patients will progress through their leaves and be able to access the gym, garden, grounds and eventually community leaves. I am gym trained so can arrange times for patients to use the gym during the day once they have had their induction from the Sports Technician.
There are 14 patients on the ward and I can also help in facilitating their leaves either in the courtyard, garden or grounds. If the majority of the patients want to go out at the same time things can get rather busy meeting their leave requests, and when the last person has been out sometimes the first person wants to do something else and the cycle starts all over again.
Once a certain level of community leaves are reached the patients can join in with the clinic wide activities that the co-ordinators offer such as rambling club, cycling, swimming and the Friday and Sunday community trips to shopping outlets and places of local interest. A number of the patients also attend the Monday, Wednesday and Friday 5 aside football games which brings patients together off all the wards who enjoy a kick around but who are not necessarily the next Wayne Rooney.
Since the ward opened in October 2007 patients coming onto the ward have added their ideas and views to what activities they would like to take part in and this is discussed in the wards weekly community meeting, a number of weekly activities have already been set up and include the Tenby gardening club and Friday night bingo.
So as you can see that my day on Tenby ward can vary a lot from just spending time on the ward chatting to patients over a game of pool or a cup of tea, getting the patients involved in the activities available to them on and off the ward or spending time with patients on a one to one basis either in the garden, grounds or the cafe which some of them prefer. No two days are the same which makes the job a very enjoyable one to do.
Dia.S