Issue 21
Monster Truck Jam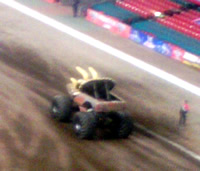 Hi everyone! I am Adrian. On Saturday the 27th October 2007 at 6:30 I embarked on my trip to Cardiff. The big event was "The Monster Truck Jam" at the Millennium Stadium.
Christine accompanied me as we caught the train to Cardiff. The event was to start at 7:30 with about 40,000 people going to attend. We arrived to a very colourful sight of world flags from America, England and Australia. First to enter the arena were the trucks free styling and completing stunts, such as back flips they were awesome!
The motorbikes leapt over trucks and completed ariel manoeuvres. The trucks then roared into the arena very fast circling each other. They drove over ramps and other cars it was an excellent sight! Different trucks represented each country and competed against each other.
My favourite truck was from America also there was one truck painted as the Tasmanian Devil that stood out from the others. My trip was very enjoyable and action packed and it would be great to attend again next Year!
By: AdrianT. Ogmore Ward