Issue 19
On-Leave in a West African Wonderland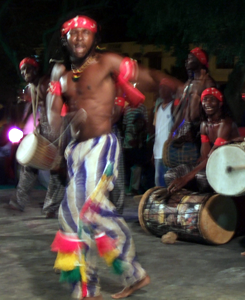 This January afforded me the time off for a trip of a lifetime to The Gambia. In over 7 years of drumming I had not yet managed to make the pilgrimage to one of the many countries famous for its traditional style of drum and dance.
The ex-British colony of The Gambia is surrounded by the ex-French colonial Senegal which dwarfs this "smallest nation in Africa" whose entire geography is dictated by the River Gambia. The Gambia is a popular tourist destination for Nature lovers and drum enthusiasts alike, attracting more visitors each year than many of the regions West African Nations combined. Indeed, The Gambia attracts many artists and migrant workers from neighbouring Senegal, Mali and Guinea who all seek to profit from the countries large tourist industry which profits from its international reputation as a safe and stable country.
The principal reason for my visit was to receive some drum tuition, experience some traditional performances, pick-up some new skills and to source some drum factories for future dealings. I was not to be disappointed as I experienced some of the most inspiring drumming and dancing performances that I′ve ever seen. After all, this was the trip where I would be out-drummed by a six year old! They really do start them young. Kids with natural talent over there shine even before walking and talking, it seems.
The traditional cultural performances are really something to behold and can be seen pretty much every evening at various resorts and hotels around the city of Banjul. Each group has something different in its arsenal of entertainment: be it fire displays, limbo dances, stilt dancing or some other form of acrobatics. Each group has a member who acts, as what can only be described, as a witch doctor dressed in fantastic costume.
His role is to protect the drummers and dancers from bad spirits and spells that may be cast upon them by ill wishing rivals. This character often dances around the front of the stage in a wild manner which makes for a great visual feast.
I spent a lot of time over there in the drum factories just observing the way they skinned the drums, carved the wood and tuned the instruments to a professional standard. Of course they have the added advantage of the African sun which ensures good drying! They were employing some interesting techniques for shaving the skin and tuning the drums that I have now employed myself in my work here in the UK.
With easy reach of the beach, much of the accommodation is perfectly situated for the average holiday maker just wanting to relax and catch some rays. As a Muslim country Fridays were off-limits for drumming and loud music as many take to the Mosques in traditional Muslim dress. Local markets are colourful places trading locally-made arts and crafts and other African goodies likely to catch the eye of the European holidaymaker. All in all: The Gambia is a great option for an African adventure and it won′t be long before I return for my second visit, I′m sure.
Aaron M.