Issue 21
Cardigan Garden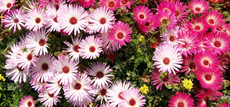 Now winter is here, we dream of spring and that means, planting Bulbs. Here is a quick guide. Put tall plants to the rear of your beds and smaller one to the front. This will give you a much better display.
When I joined The Caswell Clinic and started working on Cardigan Ward, earlier in the year. I was disappointed not to see flower in the garden at spring time. I hope that will be different for spring 2008. In fact there are many plans for the Cardigan garden, next year.
Andy and David have already been very busy helping me to sort out the garden for the coming season. Craig T, Activities Co-coordinator has offered to take patients out into the garden over the weekends, when I am not on shift. The idea is to try and get other patients who don't usually attend the gardening group, out into the fresh air and learn some new skills.
Craig has asked if he could grow some vegetables. We have already cleared two of the three raised beds. Andy's successful herb bed has now been moved into the Therapeutic Garden, in order to help kick-start the new formal herb bed, planned there for next year. The Acer will be cut back and moved to sit in the lawn and thus freeing up a third raised bed. The side of the ward may also have newly established flower beds. This will mean that walkers traveling up from the rear car park should benefit from our new floral display. Great ideas, but it can only happen if staff support us and most important, patients get involved. Plants need care and attention and I am not there every day of the week. After all, it's your garden.
AlanT