Issue 18
Prestigious Award for Mike Williams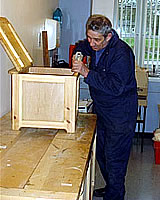 Mike Williams, Occupational Therapy Technician, has worked in Caswell Clinic for the past 14 years and is due to retire shortly. Mike was employed as a Health Care Assistant, but for the past six years he has been a valued member of the Occupational Therapy Department. He uses his carpentry skills to teach and support patients to develop their woodwork skills and provides patients with vocational skills in horticulture and other work based projects.
Over the last nine years the County Borough of Bridgend has developed a scheme to celebrate acts of good citizenship within our communities and on the 6th October 2006 Mike was presented with the Bronze Award in the Mayor′s Citizenship Ceremony and received sincere thanks from the local community.
Mike also received a letter of congratulations from Mr Win Griffiths (Bro Morgannwg NHS Trust Chairman) and a letter from Mrs Madeleine Moon MP recognising his dedication and commitment to others. She commented that; "There can be no greater contribution than offering those with mental health problems a way of finding piece and relaxation."
In retirement Mike plans to use his carpentry skills to build wooden crafts for pleasure and is looking forward to spending more time with his wife Maureen and watching rugby league matches. He is delighted to have received the unexpected award just weeks before his retirement and feels that it brings a pleasing end to his working life. He would like to extend his thanks to everyone involved in enabling him to receive the honour.
Mike is well-known within the clinic and is held in high esteem. He has a natural ability to use humour and empathy to develop trusting therapeutic relationships with patients. Mike is commended for his commitment and hard work over the years. He has been appreciated and will be greatly missed by patients and staff alike when he retires and is wished well by all.
Thanks Mike for all that you′ve done over the years!
By: Heather Gourley Occupational Therapist