Issue 18
Exercise Medical Stretch
In early September an event called Exercise Medical Stretch took place, which was a Team Building and Leadership Skills Training Weekend for people working in the NHS from all over Wales. Bro Morgannwg NHS Trust had twelve representatives including a doctor, physiotherapist, nurse therapist and admin staff, as well Carmen and myself, Occupational Therapists from Caswell Clinic.
The weekend was run by the Territorial Army Welsh Field Hospital Volunteers and took place in the Brecon Beacons. Saturday′s activities involved hiking many miles through the countryside and undertaking numerous tasks, such as getting the whole team from one side of a room to another without touching the floor with barrels and planks, crawling through dark, wet tunnels, being led blind-folded around a maze and pushing a trailer up a muddy hill.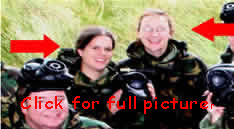 We spent the night sleeping on the concrete floor of a breeze-block building with no glass in the windows then got up at 5 am on Sunday morning in order to go on a four mile march before attempting an army assault course complete with wobbly bridges and cargo net! All of which was done in typical welsh weather, that is in fog, winds and sideways lashing rain. Paul Williams (Chief Executive) even popped in to say hello at one point!
The weekend gave us all the opportunity to explore our strengths and discover those things that we′re not so good at. But the most important thing was that we all kept smiling the whole time (well maybe not at five in the morning!) and made some fantastic friends. I don′t think khaki is my colour though.
Heather O.T. Dept