Issue 18
Keostler Awards Update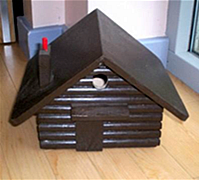 The Keostler Awards is an annual competition and exhibition of award-winning arts from UK prisons, young offender institutions, secure units and high security psychiatric hospitals. It was founded to encourage creativity among individuals in detention and now receives over 4000 entries every year.
With the aim of building on last years success more entries then ever before were submitted by Caswell Clinic patients, in many of the award scheme′s various categories and several Caswell Clinic patients won Keostler Awards and cash prizes up to the value of £60.
A range of work including a cold frame, bench trough, terrace, seed box and a beautiful log bird box made for Keostler Awardscabin bird nesting box, made by patients in woodwork sessions, were entered, with the nesting box and storage bench being Highly Commended in the awards.
The clinic patients regularly produce the "Caswell Chat" magazine which is a regular prize winner in both the magazine and computer skills award categories and again received a Koestler Merit Award. Also entered were two of a regular contributor to the magazine′s poems.
The clinic′s budding music stars with award entries included a rap cd, a recording of a performance by the clinic′s African Hand Drumming Group and "Picasso′s Kitchen", a cd produced during DJing workshops, which received a Koestler Merit Award.
Several members of the art group entered paintings, one of which was also Highly Commended and the craft group built from pebbles, old buckets, driftwood and other flotsam and jetsam washed up on the beach, a miniature village consisting of eight cottages, a church, school, castle, fire station, pub, greengrocers and fishmongers, school and of course cafe, which received the Koestler First Prize Award.
During a presentation ceremony on 26th September Tegwyn Williams, Clinic Director proudly awarded certificates to patients who have won prizes in the awards, as well as to those who have successfully completed the clinic′s Drug and Alcohol group. The event was a great success with many patients and staff attending in order to show their support and join in with the tasty buffet provided by the House Keepers.
So a huge well done to all those involved and good luck for next year!
Heather Gourley Occupational Therapists