Issue 17
All Aboard At Cardigan Ward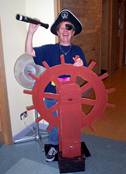 Ahoy there my hardies. The Jolly Cardy sailed into Cardigan Bay on bank holiday Sunday. Admiral Sullivan had shore leave. Captain Bird (no relationship to Captain Birds Eye – but a relation to Captain Jack Sparrow of the "Black Pearl") had captured a treasure chest with hidden bounty in various places around the galleon for the crew to discover and claim as their own!!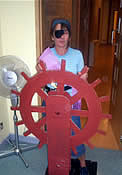 A feast of posh nosh was arranged by Sloop JonG also known as "Hook the Cook" and "Steadfast" Val and Cabin boy Kyle. They were press ganged into spending their time in the galley.The crew had to be pardoned from thinking that they were on a 5 star cruise liner as the nosh was of such a high quality.Cherry beard Terry suggested the sea food starters comprising cockles and mussels "alive alive oh" followed by banana boat and oyster shells.The crew were serenaded by sea shanties compiled by horn blower, Huw. All crew wore their Sunday best pirate clobber with eye patches to boot.
A good time was had by all and "Crows Nest" Hughes had deck leaves for the day and danced the horn pipe with Long John Brett minus his parrot who had jumped ship and was half way to parrotise.
The evening came to an end when all the treasure had been found and the ship sailed off into the sunset.
By: A Crew Member