Issue 14
Garden Project Group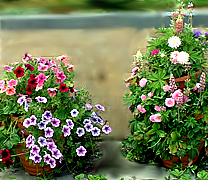 Cardigan ward is the latest ward to be opened. There are a number of ward activities for patients who do not wish to participate in off ward activities or who would like to do activities in an evening. We have made up 3 terracotta pots (large, medium and small) and stacking them and planting strawberries, lupins and dahlias so that they trail down.
We have also been to local nurseries and brought more plants to brighten up the garden such as lilies and fuscias. We have also planted herbs as plants and from seeds. Talking of seeds we have grown: cabbage, beetroot, onions and sweetcorn.
The gardening group is going from strength to strength with 7 patients now attending. This means that the back breaking work of digging is spread out.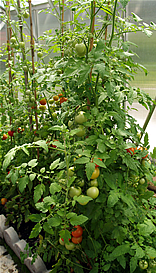 Bret, Andy, Melly and Aubrey have their own plots where they have grown potatoes, onions, leeks, runner beans, peas and flowers especially our old faithful cosmos and a new flower to us - Livingstone daisies. The peas and potatoes have now been harvested and we continue to pick the runner beans where we have a bumper crop.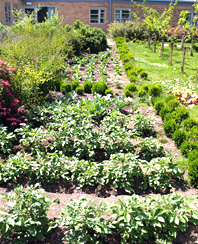 Unfortunately we are unable to cook on the ward and so the produce is sold cheaply to staff - this enables us to have a ploughman´s lunch with our tomatoes, cheese and baguettes and pop during our gardening group. This takes place in the lovely setting of the Therapeutic garden (now that the grass has been cut!!) where we can admire the fruits of our labour!!..
The greenhouses are now being "overrun " with marrows, cucumbers and tomatoes and we are pleased to say that they are also growing much produce.
Garden Project Group
It is hoped that this therapeutic garden activity will help patients develop skills in garden design and landscaping. The group meets twice per week enabling good progress to be made with the project. The immediate plans are to lay kerbs and slabs in the large garden and place stepping stones to link up pathways to the wards making access easier.
photos by:JaymieJ