Compost Corner: 1
Garden Review 2001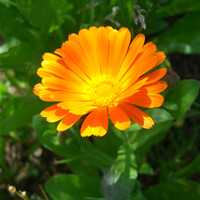 In January the Caswell Clinic Garden Group held a review of 2001 in the family visiting room. It was well attended by both old and new members who were keen to participate in the forth-coming season. Approximately 145 photographs had been selected from a catalogue of over 400 taken throughout the year. They were compiled chronologically, presentation and narrated by Andy. The presentation went extremely well lasting for over half an hour. The photographs were taken digitally on a biweekly basis over the year and included produce as diverse as grapes, potatoes, dahlias and some dubious looking frogs.
We all chipped in with memories from the past year much to each other's amusement. One recollection was the sunflower competition, which had been expected to be quite an event. Several bemusing and disappointing months passed before anyone thought to read the seed packet, which read "Dwarf sunflowers"! Which explains why they didn't grow over 12 inches in height much to the enjoyment of the slugs.
During the evening members discussed plans for next year and the possibilities for the future in the new hospital including the possibilities of "going organic". All orange flowermembers were given the opportunities to view the plans for the therapeutic garden area in the new hospital (see plan below). This area is similar in size to the whole of the present Wyndham garden and includes two large green houses which will hopefully be climate controlled enabling the gardening group to continue throughout the winter months.
During the evening a fantastic buffet was served following some hard work by staff and patients in preparing the food (thanks to Deb, Paul, Trisha, Jill and Donna).
I hope to see you all when the digging and weeding starts.
By: Green Fingers